Jedes Bild erzählt eine Geschichte. Für eine Marke, ein Produkt oder eine Person.
Vor
allem
interessiert mich visuelles Storytelling. Aber auch die Gestaltung digitaler Medien wie UX/UI-Design, Video Editing oder allgemeines Grafikdesign.
2018 habe ich meinen Bachelor in Kommunikationsdesign an der Hochschule RheinMain gemacht. Durch zahlreiche Praktika, einem Werkstudentenjob, einer Vollzeitstelle und meiner aktuellen Festanstellung habe ich über 3 Jahre Arbeitserfahrung gesammelt.

In meiner Vita findet ihr die beruflichen Haltestellen.
[
P.s.:
auf dieser Landing Page sind drei Easter Eggs versteckt
🥚
– viel Spaß beim suchen!]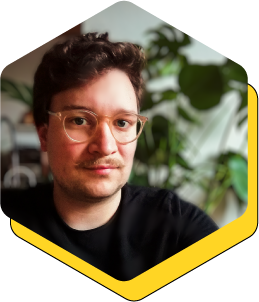 Design in Bewegung.
Hier gibts einen kurzen Showreel für meine Motion Design Skills.
Überwiegend Logo Animationen. Viel Spaß! [Stand: Mitte 2020]

Drei ausgewählte Arbeiten um UX, UI und Coporate Design zu zeigen.

Ebenso wie Fotografie Skills.
Hier ein kurzer Showreel für meine filmischen Arbeiten – überwiegend dokumentarisch.

Der Reel beinhaltet drei Filmprojekte:
– Fremde im Herzen Europas ◊ Documentary ◊ 43 Minutes
Director, Editor, Producer: Jan Paschen; DoP: Joshua Maciejok; Sound Mixer: Bianca Büdenbender
– Ma

king of Darb ◊ 12 Minutes
It's about the student project film "darb". It took place in Wadi Rum Desert in Jordan. Director, Editor: Jan Paschen (Darb the Movie Director: Abdelrahman Halawani)
– Alte Jugend ◊ Shortfilm ◊ 13 Minutes
Director, Writer, Editor: Jan Paschen; DoP: Jan Hennemann
Thank you for your message! I will respond as soon as possible.